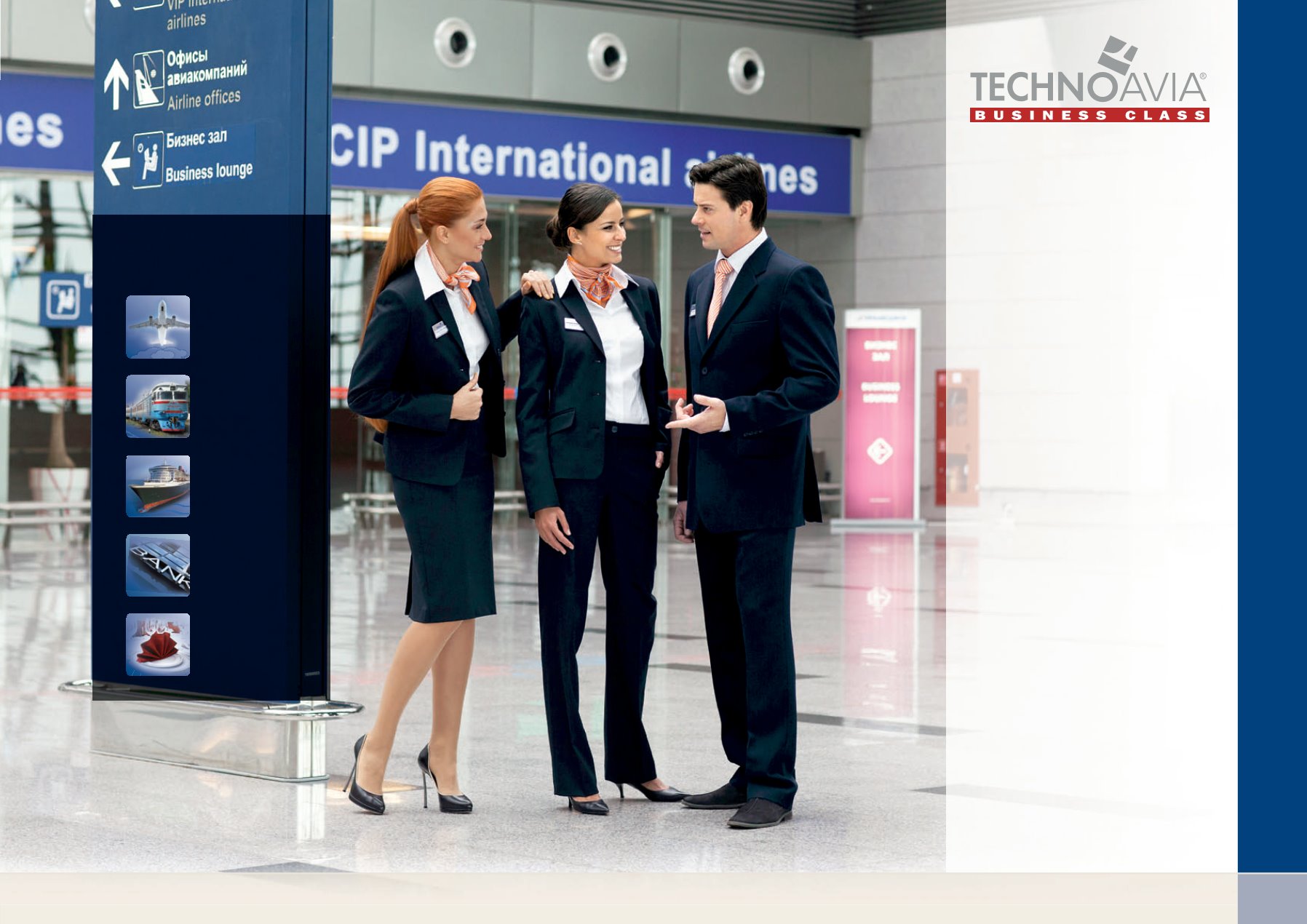 Business Class collection
e C
www.technoavia.com
www.technoavia.ru
airports
and airlines
railway
marine
and river
transport
banks
and offices
$
$
$
service
sector
Business Class is a corpo-
rate clothing line for em-
ployees of:
Modern design, comfort cut and quality ma-
terials are the basis of this collection. For
Business Class clothing production we use
especially developed fabrics and high quality
fittings from the most reliable producers.
Our specialists are ready to provide all neces-
sary information and advice for appropriate
selection.
The Business Class suits are fabricated from
soft half-woolen fabric with stretching effect
imported from Portugal. Garments produced
from this fabric are elegant due to volume re-
duction effect and does not hamper motions.
The fabric finished with Teflon by DuPont
protects from water and oil: drops roll down
from the fabric without leaving any traces.
The clothing made out of this fabric is easy to
maintain, has presentable appearance, and
ensures comfort during the whole day.
Slim-fit women's blouses are produced from
elastic poly-cotton fabric, they extremely
comfortable and nice to touch.
Knitwear under "Milan" brand is produced of
Italian yarn, which consists by 50% of high-
quality Australian Merino yarn. Balanced
yarn composition ensures improved func-
tional properties: wear does not deform,
bleach or shrink.
All the models in Business Class range are
available separately, so you can compile suit
according to your requirements.
Business class range is aimed at civil avia-
tion, railways, marine transport and at
office and bank workers, as well as, at
HoReCa sector. The collection consists of
formal dresses, blouses, shirts and
knitwear.
7