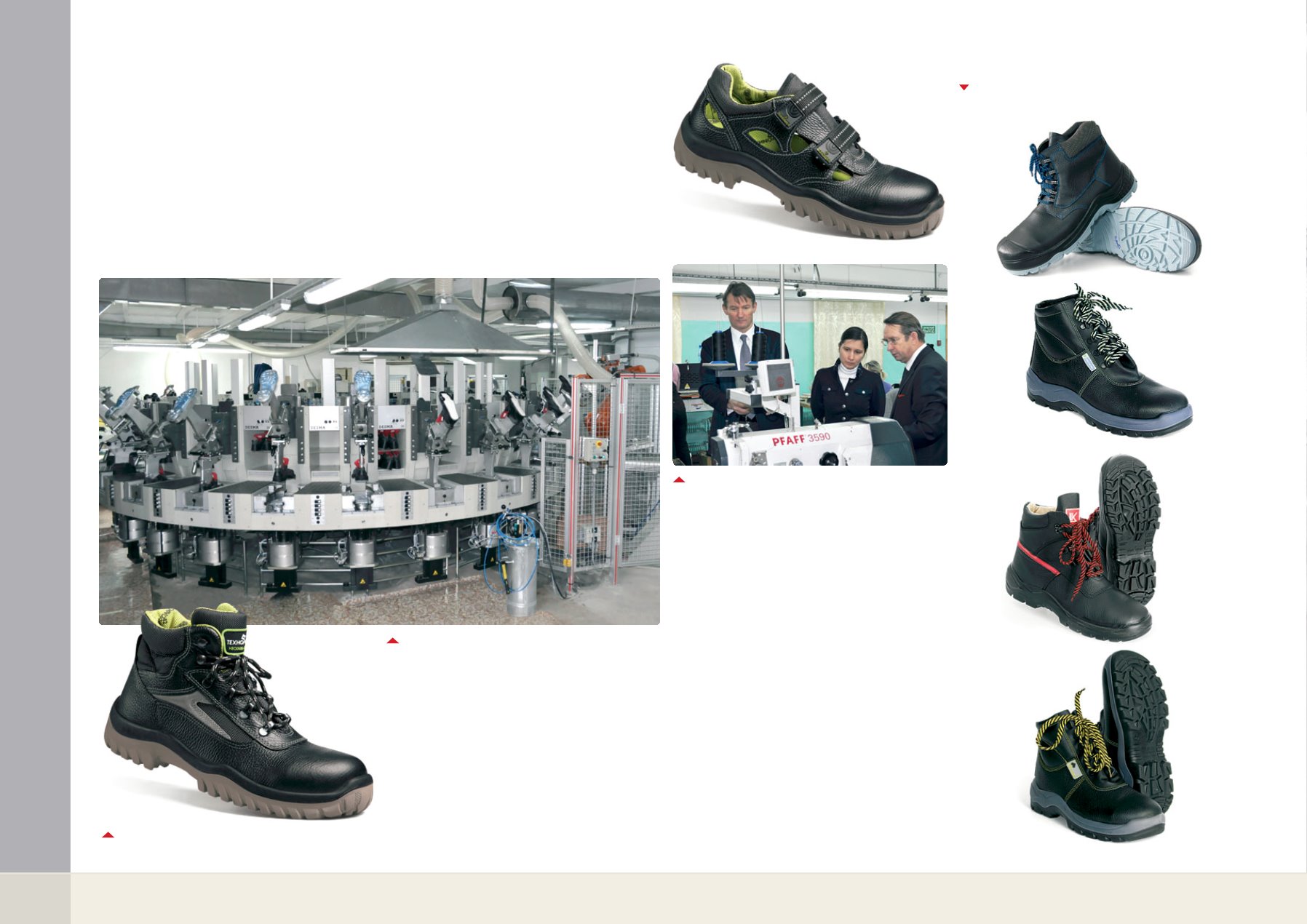 Over the last six years we have significantly mod-
ernized our shoe factory by installing new equip-
ment, by embracing highly efficient manufactur-
ing processes and constantly improving our oper-
ators' professional skills and training.
In 2014, we will open a new workshop at the
shoe facility, where we recently installed a fourth
injection-molding machine Germany's Desma.
The installation of this new machine will enable
us to hoist the production of our modern safety
footwear and expand our model range.
In order to improve footwear fabrication process
and increase labor efficiency, factory was
equipped with modern sewing automatic ma-
chines by Pfaff (Germany) that permit to increase
output of high quality shoe uppers with minimum
number of employees involved. As well, cloth-
cutting and lasting equipment by Schoen (Ger-
many) has been put in operation, and sewing
and fabrication workshops are strengthened with
sewing machines by Duerkoop-Alder (Germany)
High performance molding machines by Desma
installed at the factory allow producing modern
protective footwear made by using direct binding
polyurethane sole construction method with
thermoplastic polyurethane and nitrile rubber
patch, what ensures protection from petrochemi-
cals, oils, aggressive substances, mechanical im-
pacts, and contact with heated surfaces.
In our specialized footwear production we use
thermostable and water-repellent leather mate-
rial, breathable lining material, anti-puncture
metallic liner and non-metallic insole made out
of anti-puncture material, special shields that en-
sure insteps impact protection – all of above
listed facts allow to significantly increase protec-
tive properties of our footwear.
Our production volume ranges from single sam-
ples to batches numbering in the tens of thou-
sands. Long-term cooperation with large compa-
nies allows us to study footwear requirements
and meet the individual corporate style shoes de-
mands of our customers. Footwear can be made
in various colors, with the use of colored acces-
sories such as threads and laces as well as the
customer's logo.
4
Company profile
www.technoavia.com
www.technoavia.ru
Protective Footwear Production
New machines by Desma for fabricating shoes using direct
sole attach construction method
Sewing automatic machines by Pfaff allowing fabricating
high-quality shoe upper
New series of protective footwear with composite toe cap,
Neogard-Lite®
Protective footwear fabricated in a corporate style