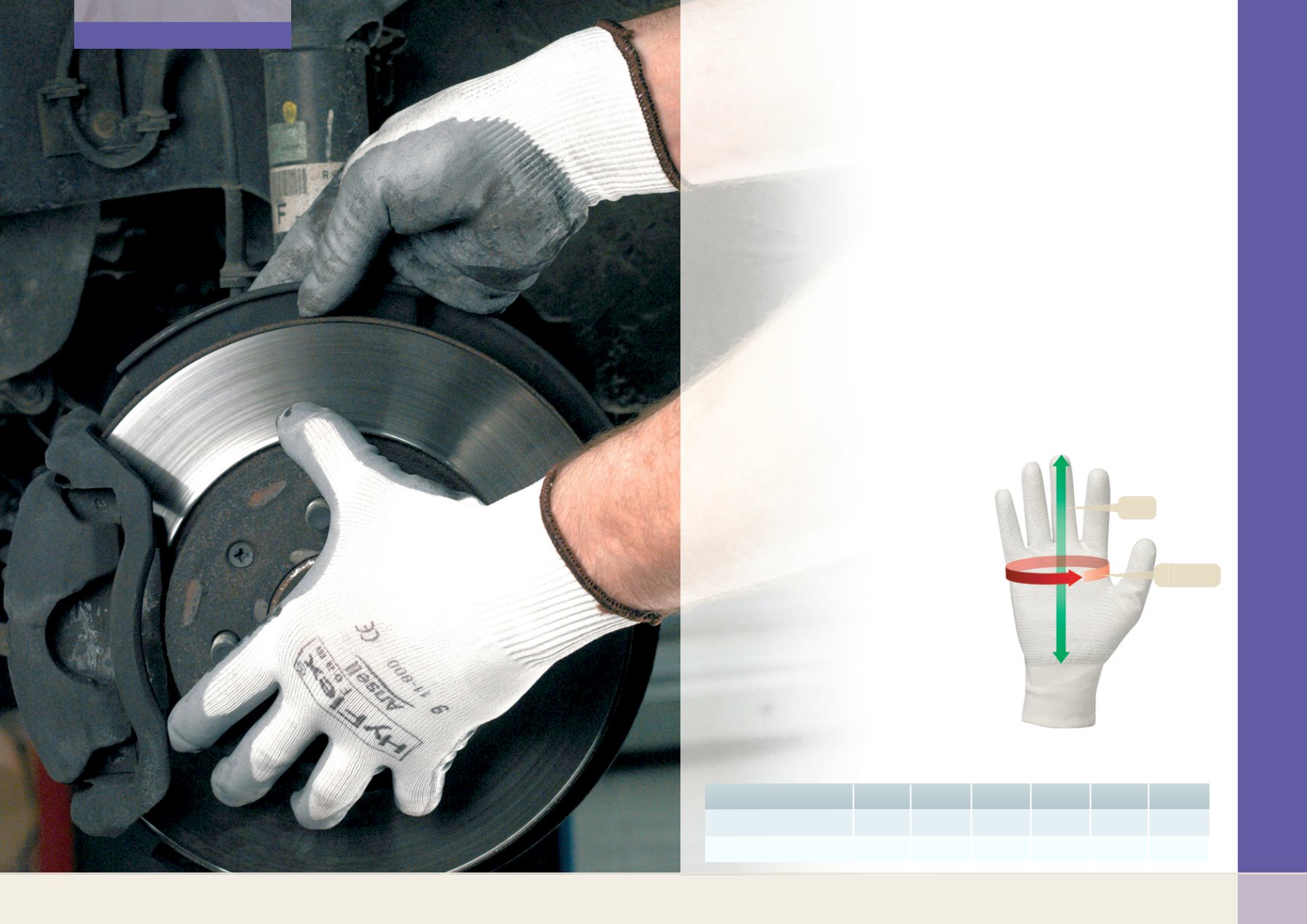 Application of hand protectors is necessary for
preventing unfavorable impact of hazardous
factors on worker's hands.
Wide assortment of PPEs represented in our
catalogue provide you with efficient protec-
tion from most various risks at workplaces:
mechanical impacts, contact with aggressive
media, operation under extreme climatic con-
ditions or special works.
Our partners lead the market in the field of
designing and manufacturing protective
gloves.
Technoavia is an official distributor of such
companies as Ansell, Delta Plus, Technoavia,
Jokamuovi, which offer items manufactured
in accordance with modern technologies and
made of high-quality material, and, thus, en-
suring reliable hand protection.
Hand protectors
European standards regulating requirements to personal hand protection
equipment for workers
In accordance with the anthropometric research executed in various coun-
tries, 6 hand types have been identified
Sizes
6
7 (S)
8 (M)
9 (L)
10 (XL)
11
Circumference (mm)
152
178
203
229
254
279
Length (mm)
160
171
182
192
204
215
Gloves size selection chart
Ordering right-size gloves guarantees comfort
when working. One of the ways to identify right
size is to use tape measure to find the hand cir-
cumference. Measure the circumference as
shown in Figure, and compare the result with the
size in the table. When measuring hands in such
way, all the possible hand size deviations are not
considered. For example, some workers have
long fingers, and some short. Workers may
chose, which gloves one size smaller or bigger
than the measured one fit the hand more com-
fortably.
Actual gloves size is identified by the manufac-
turer with due regard to the specifics of the mate-
rial, and assumed purpose, for example, if gloves
have sewn-in cuff, or they are made of elastic
material, size is shown for the non-extended
gloves.
Length
Circumference
EN 388
Protection from hazardous mechanical
factors.
EN 374
Protection from ingress of chemicals and
microorganisms.
EN 407
Protection from increased temperatures
and/or open fire.
EN 511
Protection from lower temperatures.
EN 421
Protection from radioactive substances
and/or ionizing radiation.
EN 1149
Antistaticity.
EN 420
General requirements.
Hand protectors
Personal Protective Equipment
s
117
www.technoavia.com
www.technoavia.ru