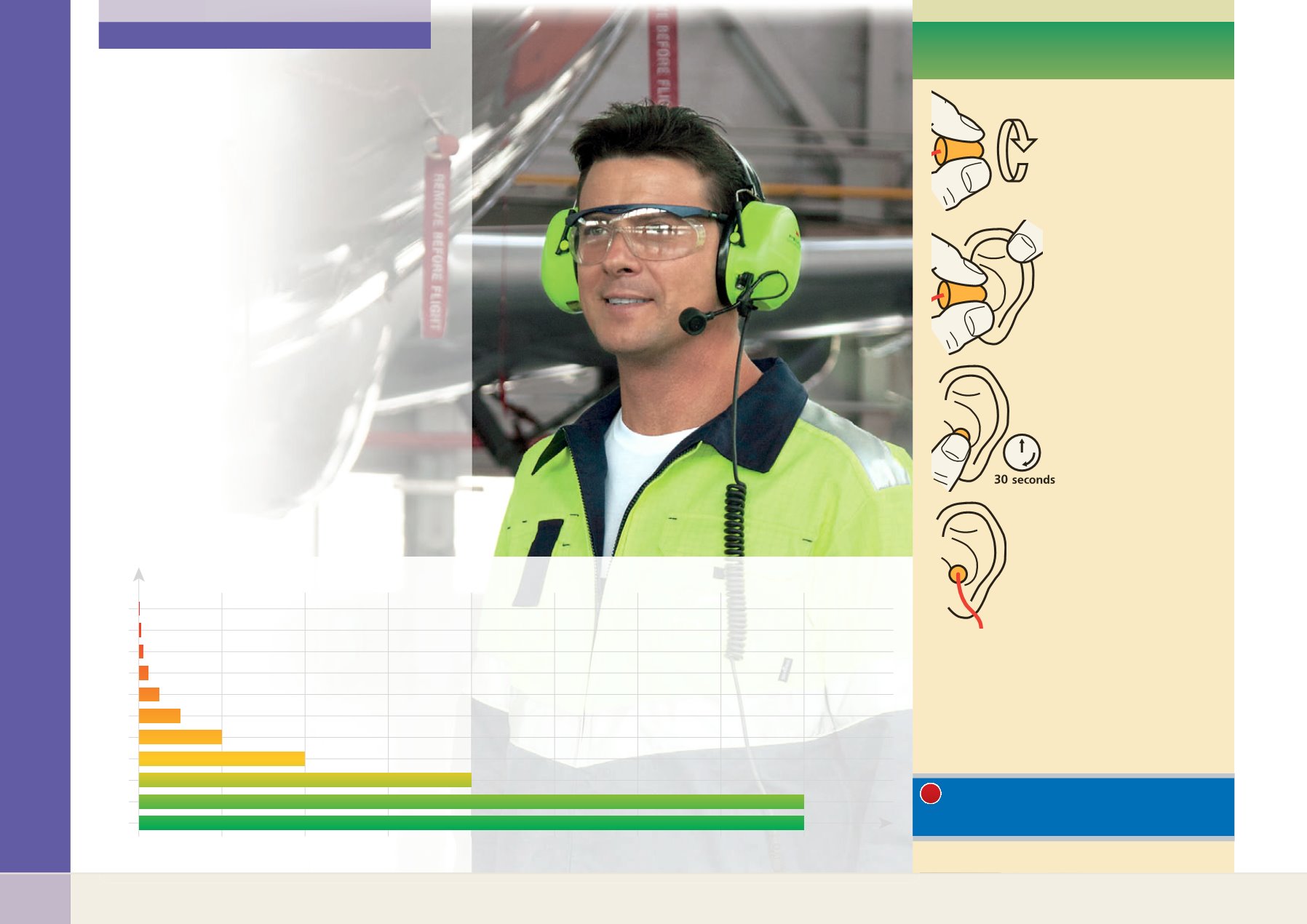 7 minutes
2 hours
4 hours
8 hours
8 hours
50 seconds
105 seconds
3,5 minutes
15 minutes
30 minutes
1 hour
0
1
2
3
4
5
6
7
8
Time
112
109
106
103
100
97
94
91
88
85
80
dB
Personal Protective Equipment
e
ot
E
104
www.technoavia.com
www.technoavia.ru
Ear personal protective
equipment is divided into:
Earplugs
•
disposable
•
reusable
Ear muffs
•
passive protection
•
communication with active protection function
•
communication accessories
•
communication headphones with built-in
radio set
Hearing PPE efficiency level indicator is SNR
SNR is an indicator of average noise level reduction at
low, medium, and high frequencies, and is required to
be indicated on all Hearing PPE products and in pack-
aging.
Harm free noise duration correlation with the level of noise
PPE for Hearing Protection
Instructions for earplug use
1.
Use your fingers to twist and
rotat the earplug.
2.
Tilt your head and softly
pull ear aside and upwards
to straighten the ear channel.
3.
Push the earplug inside your ear
channel and hold it for a while with
your finger to let it settle correctly.
Efficiency checl
When in a noisy environment,
apply earplugs and cover both ears
with your hands. The earplugs are
selected and applied correclty if you
can't hear any difference when your
ears are uncovered.
When selecting earplugs, it is very important to con-
sider the following:
•
noise reduction level (avoid excessive
protection)
•
external factors at the workplace (contamination level,
humidity)
•
work specific nature (frequent change of workplace from
noise to silence, work in the food industry)
Failure to or improper use of hearing PPE
can result in permanent hearing loss and
chronic illness.
!